Let Clean All of North Jersey Help Remove Pet Stains and Urine Odors from your carpet!
Man's
Best Friend …

Carpet's Worst Enemy.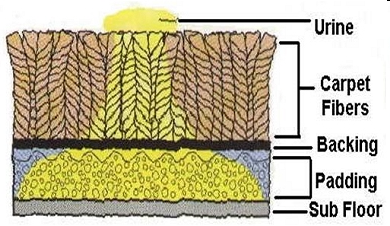 Our beloved pets are part of the family
and while we may tolerate seeing, or worse "Smelling" pet accidents because we love our pets so much, pet stains and odors are no laughing matter. Here's why.
The problem is that what appears to be a small stain on the surface is usually  much larger down below. Just treating the top 10% means 90% remains virtually untouched.
As homeowners we don't realize that
a dog or cat that weighs less than five pounds will produce more than ten
gallons of urine per year. If the animal concentrates most of that into an area
of less than 100 square feet, which
many do, the problem can be
extensive.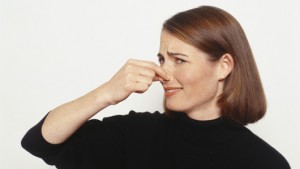 To make matters worse, because the urine that remains trapped in the padding is covered up by the carpet, it fester's just like a wet sponge that's been sealed up in a plastic zip lock baggy! This quickly becomes a breeding ground for bacteria and greatly reduces indoor air quality within your home. While you may have become tolerant and don't notice the odor as much, your friends and family are very aware that you have pet urine issues. These  embarassing household pet odors can also spread to your clothing or personal items and be brought along for the ride with you during your day. Have you ever smelled the cigarette smoke odor on your co-worker that just came back in from having a cigarette? While they don't smell it themselves, everyone else around them does.
So what should you do when?
Most likely you have probably tried to clean the spots yourself or maybe even tried hiring another carpet cleaning company. You might have found yourself  left frustrated because:
You are still left with the stain and or odor that previous attempts were unable to remove .
The spots went away, but then came back.
The carpet was damaged.
The odor was better for a while but then came back.
Let Clean All of North Jersey help you by applying nearly 20 years of industry experience to your pet stain and  odor challenges!
We have done extensive research and sought out the most effective means of odor removal possible. We are pleased to be able to offer this highly effective treatment to our neighbors in Bloomingdale, Kinnelon and the entire North Jersey area. Our corrective procedure and proprietary pet odor removal treatment is second to none at removing pet urine odor! More often than not, we find it removes the urine stains as well.
How we remove pet urine odor in your carpet
In order to successfuly treat pet urine odor , it is a crucial first step to accurately pinpoint ALL contaminated area's. If any affected area remains undetected the end result will be a very frustrating lingering pet odor which may come and go with changes in humidity. During periods of higher humidity, you will find the pet urine odor to be more prevelant. We isolate the source of the pet odor in four ways:
By Sight – While there is usually more pee than meets the eye, a thorough visual inspection is a good starting point.
By Smell – The nose knows! We can often sniff our way to the source of the problem.
Black Light – Urine deposits contain salts which flouresce a greenish yellow color under a black light because they are on the same wavelength as the ultra violet rays that are being emitted. This makes it very easy to detect area's that would normally be invisible to the naked eye.
Hydro Meter – There are salt crystals that are both microscopic and hygroscopic (water loving) which are part of the makeup of the urine deposits. These salt crystals constantly draw moisture from the atmosphere to them. This is why that during periods of high humidity, the urine odor is always more pungent smelling and noticable. With the use of sensitive testing equipment we are able to detect urine deposits in the carpet and padding that appear to be dry to the touch.
Light to Moderate Contamination

If you have single or multiple small deposits that have not penetrated the backing or padding, we  apply a topical solution of the strongest all natural pet odor neutralizer in the industry to the affected areas. After cleaning the carpets thoroughly, we follow up by applying a second deodorizer to finish the process. This method is very effective  if the urine has not penetrated into the carpet padding or sub-floor beneath.
Moderate to Heavy Contamination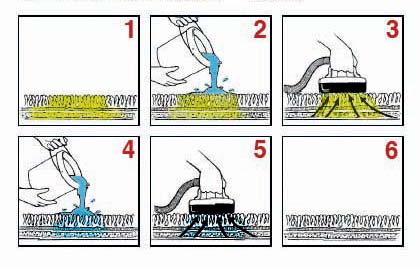 If your pet has repeatedly contaminated the same spot and it is determined that there are urine deposits that have penetrated the carpet backing and settled into the padding or sub floor, we start by rinsing the contaminated area thoroughly with water   using a special sub-surface extraction tool. We then apply a proprietary solution that is scientifically   formulated to actually attack the source of the odor on a molecular level, breaking  down and destroying the odor causing bacteria and stopping odor in it's tracks . Once the treatment has taken affect, we thoroughly flush the area  to remove the decomposed urine and solution from the padding. By removing most of the urine from the padding & sub-floor we are eliminating most of the odor as well. Although this treatment is a valiant attempt, it is NOT guaranteed to eliminate the odor, since the padding has pockets like a sponge and the sub-floor is porous & will hold odor.However, this method is usually  80-90% effective and  is often successful therefore avoiding the inconvenience of pulling the carpet up.  People that choose this method are usually very satisfied. This is a good option if you have an isolated area or two that needs to be treated in the middle of a room for example. For treating heavily contaminated area's, treatment may require pulling back the carpet, replacing padding and sealing the sub-floor.
Heavy to Extreme Contamination
If it is determined that there is heavy urine contamination, it is necessary to pull back the carpet in order to thoroughly treat the effected areas and remove the contaminated padding. The sub-floor is then sealed with odor counteracting sealer, new padding is installed and the carpet and backing are treated with an intensive application of our proprietary odor removal formula. Afterwords, the carpet is flushed thoroughly. Finally, we will expertly re-install the carpet back as if nothing had ever happened. This method is 95-100% effective.
Urine Contamination May Be Much More Severe Than You Realize.
If you'd like to learn more about the technical aspects of Pet Odor and Stain Removal and educate yourself on available treatment options, download our Free Consumer's Guide  "A Pet Lover's Guide to a Happy, Healthy Indoor Environment"