Tile and Grout Cleaning? Clean All of North Jersey will do for you what no Bucket and Scrub brush cleaning could ever do.
We'll Breathe Sparkling New Life back into your dull and dirty tile and grout !!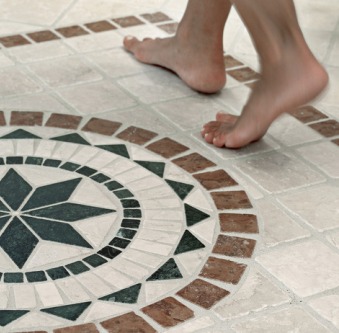 Man Made Ceramic and Natural Stone Tile floors are becoming more and more popular in kitchens, family rooms and many other area's throughout today's homes. Regular upkeep of these surfaces in the form of sweeping or vacuuming and damp mopping is fairly simple . However, it can quickly become a challenge to remove the heavy buildup.


One of the biggest challenges with today's hard surfaces is a lack of repellency or protection. Most surfaces aren't properly sealed if at all. Tile and especially grout lines which haven't been sealed or that are sealed with low quality sealers are a sponge for oil, beverage spills and food which can lead to permanent staining.
Properly caring for your hard surfaces can be difficult. In fact, did you know that even some common household cleaning
products can actually damage many sealers? A bucket full of homemade cleaning solution, a scrub brush and a few hours of good old-fashioned elbow grease will only take you just so far. Clean All of North Jersey, will do for you what no bucket and scrub brush could ever do…We'll breathe sparkling new life back into your dull and dirty tile and grout!
Hard surfaces are an investment in the beauty and resale value of your home. A professional tile and grout cleaning is recommended every 12 to 18 months to restore and revitalize the appearance of your floors.
We have the proper equipment, training, products and know-how to deliver outstanding results that are sure to satisfy! You can trust in our commitment to provide you with the best possible care to preserve the beauty and longevity of your hard surfaces for years to come!
Don't trust your next cleaning to just anyone! A true professional cleaner CAN NOT give you an honest price quote over the telephone. Call Clean All of North Jersey today and get your FREE written, itemized quotation before choosing a company to handle your tile and grout cleaning needs.
Our 9 step tile and grout cleaning process!

1. Pre-Inspect– We start by performing a thorough inspection of the surfaces we are going to be cleaning. We assess the current condition of your dirty tile and grout, looking for any problems area's such as loose tiles, cracked grout or any other areas that may concern you.
2. Vacuum– Prior to pre-conditioning, we vacuum thoroughly to ensure that the surface is free from any gritty dirt or loose particulate .
3.Tape & Protect– As necessary we will take precautions to protect woodwork, cabinets, appliances, and any furniture in the work area.
4.Pre-Condition– Our innovative cutting-edge tile and grout cleaning solutions are the safest and best in the industry! We apply only the finest cleaning solutions which are custom-taylored to your specific tile and grout. These solutions are mixed and applied with heat. This maximizes our ability to get your tile and grout sparkling clean!
5. Agitate– (pre-Scrub) Using state-of-the-art equipment combined with hand detailing, we carefully work our cleaning solution deep into every nook and crevice, removing stubborn build-up from grout lines and the surface film that makes your tile and grout look dingy and dull.
6. Turbo Rinse– Using a very unique, very powerful, high pressure Turbo Cleaning Tool we blast away and vacuum up dirt and build-up that just can't be removed by scrubbing alone. This allows us to achieve outstanding results that are sure to satisfy!
7. Speed Dry– Using turbo fans to speed dry the cleaning area, your tile and grout is left dry to the touch in minutes and ready for use immediately!
8. Apply Sealer– (optional) Grout lines and Hard surfaces that are unsealed or are sealed with poor quality sealers are a sponge for oil, food and beverage spills which can result in permanent staining ! We offer a full line of sealing products to preserve the beauty of your flooring and can even re-color your grout lines with a full pallette of colors in the event there is any permanent staining or if you just want to give your floors a whole new look!!
9. Post Inspection– After the cleaning is completed we will do a final inspection with you to ensure your complete satisfaction!
Floor Tile & Grout cleaning in Kinnelon,Ramsey,Mahwah, Oakland,Wayne,Franklin Lakes, Allendale,Towaco,Montvale, Montville,Closter,Old Tappan,Norwood, Rivervale, Demerest, Cresskill, Englewood Cliffs. Tile & grout cleaning nj.